For more than three decades, Pina on Las Olas has provided the truly fashion-savvy shopper with her preferred collections of "European Fashion for Women".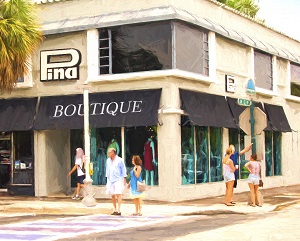 Drawing on her own training in haute couture in Milan, Pina's on-the-mark and in-the-minute style has guided her discriminating clientele in selecting the outfits that are perfect for their lifestyles and special occassions through generations of cultural mood changes. "What is hot now matters", says the Diva of Fort Lauderdale's most artistic district, "regardless of her age or shape, the woman who is aware of the current fashion will always set the precedent in good taste."
The signature look that Pina caters is designed for the woman who loves to stannd out in a crowd. Her eclectic fashions draw attention, even from the most sophosticated fashionistas! Her styles appeal to the individualist whose self-assurance radiates with the high energy of youth and vitality.
Pina's world-class boutique on Las Olas Boulevard offers an extraordinary collection of gowns, dresses, suits, seperates and accessories for the customer of distiction. Whether shopping for a formal event, a cruise or travel, Pina assists her clients in choosing from the array of highest quality natural fabrics and stunning desing detail to find the collector's items exactly right for their needs.